101 Romantic Quotes For People Who Are In Love
24 September 2020, 07:05
Photo: YourTango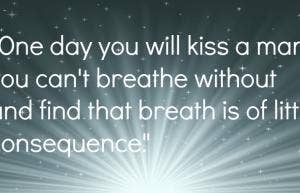 The best romantic quotes are those we want to share with the person we love because they seem to almost magically express the sweetest things they make us feel.
The beginning of true love, the falling in love part, gives us starry eyes and the feeling of butterflies in our stomachs. Being firmly and securely in love gives us someone who is our best friend — someone to dance and dine with, someone to adventures with.
Love makes us do things like this ...
And as it grows, love gives us a confidante — that special someone to share our deepest, darkest secrets, highest hopes and wildest dreams with.
Love means always having someone around who understands us, even without having to tell them specifically what's going on in our hearts and minds at any particular moment. Love means having someone who always put you first, even if you yourself don't. And love assures us that we will never be alone.
RELATED: These 20 Quotes Explain Why We Need Unconditional Love
It's for these reasons we write or read sonnets and sing love songs. And it's why we rounded up this collection of the best romantic love quotes for him or her from poets, authors, famous figures and lovers around the world.
Best Romantic Love Quotes For Him And Her
1. "The greatest happiness of life is the conviction that we are loved; loved for ourselves, or rather, loved in spite of ourselves." — Victor Hugo
There is nothing greater than being loved.
2. "There is never a time or place for true love. It happens accidentally, in a heartbeat, in a single flashing, throbbing moment." ― Sarah Dessen, "The Truth About Forever"
Love is instantaneous and happens when you least expect it.
3. "You know you're in love when you can't fall asleep because reality is finally better than your dreams." ― Dr. Seuss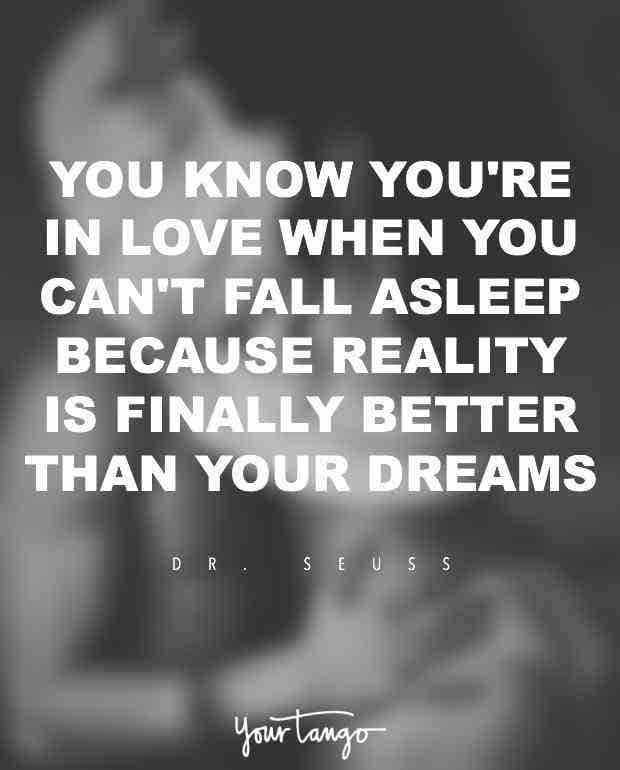 No dream could possibly be better.
4. "'There is no pretending,' Jace said with absolute clarity. 'I love you, and I will love you until I die, and if there is life after that, I'll love you then.'" ― Cassandra Clare, "City of Glass"
Love cannot be faked.
5. "You know that when I hate you, it is because I love you to a point of passion that unhinges my soul." ― Julie de Lespinasse
Love ignites the greatest passion of our lives.
6. "I love you without knowing how, or when, or from where. I love you simply, without problems or pride: I love you in this way because I do not know any other way of loving but this, in which there is no I or you." ― Pablo Neruda, "100 Love Sonnets"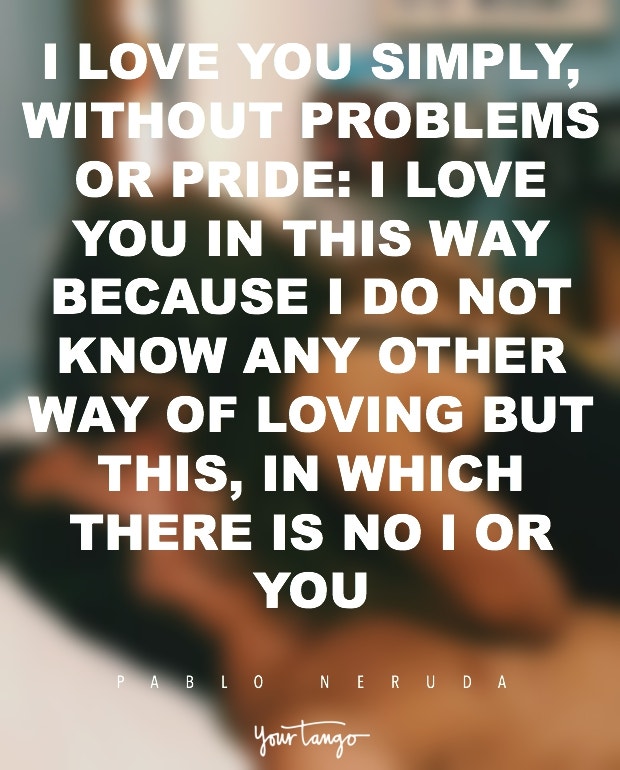 There is no other way to love.
7. "Your hand touching mine. This is how galaxies collide." ― Sanober Khan
Love is astronomical.
8. "Promise me you'll never forget me, because if I thought you would, I'd never leave." ― A.A. Milne, "The Complete Tales Of Winnie-The-Pooh"
Love always remembers.
9. "Two people in love, alone, isolated from the world, that's beautiful." ― Milan Kundera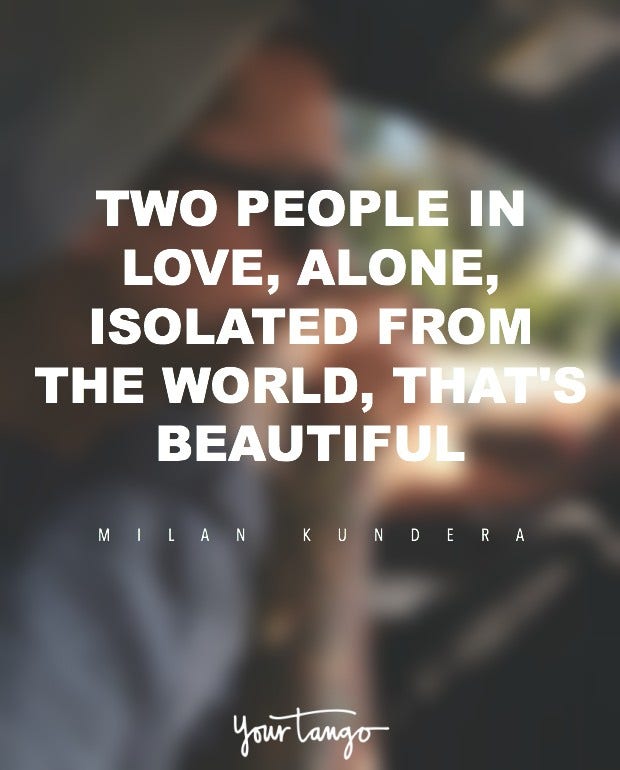 When you're in love, you need nothing and no one else.
10. "I crossed a thousand leagues to come to you, and lost the best part of me along the way. Don't tell me to leave." ― George R.R. Martin, "A Storm of Swords"
No journey for love is too far.
11. "You can't force love, I realized. It's there or it isn't. If it's not there, you've got to be able to admit it. If it is there, you've got to do whatever it takes to protect the ones you love." ― Richelle Mead, "Frostbite"
There can be no forcing love.
12. "For the two of us, home isn't a place. It is a person. And we are finally home." ― Stephanie Perkins, "Anna And The French Kiss"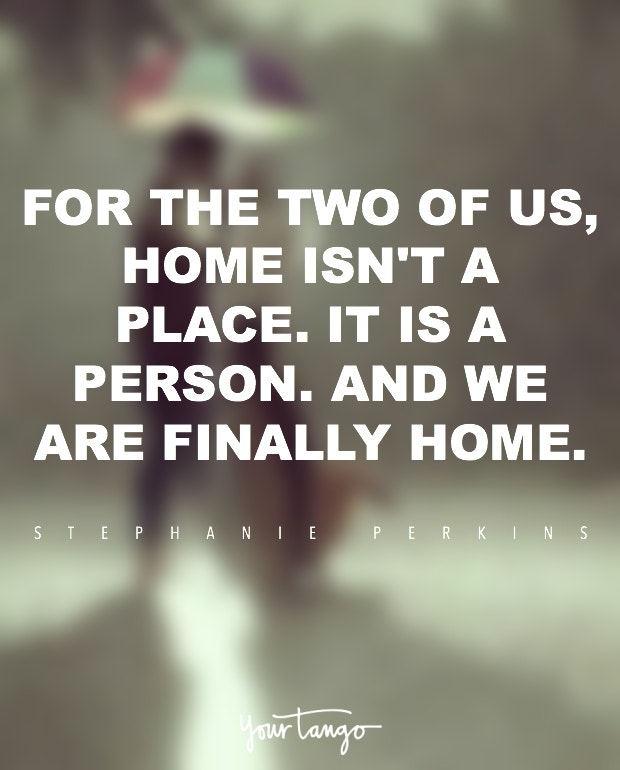 Your love is your home.
13. "But love, I've come to understand, is more than three words mumbled before bedtime. Love is sustained by action, a pattern of devotion in the things we do for each other every day." ― Nicholas Sparks, "The Wedding"
Love is so much more than those three little words.
14. "Anyone who falls in love is searching for the missing pieces of themselves. So anyone who's in love gets sad when they think of their lover. It's like stepping back inside a room you have fond memories of, one you haven't seen in a long time." ― Haruki Murakami
Love provides your missing pieces.
15. "Lost love is still love. It takes a different form, that's all. You can't see their smile or bring them food or tousle their hair or move them around a dance floor. But when those senses weaken another heightens. Memory. Memory becomes your partner. You nurture it. You hold it. You dance with it." ― Mitch Albom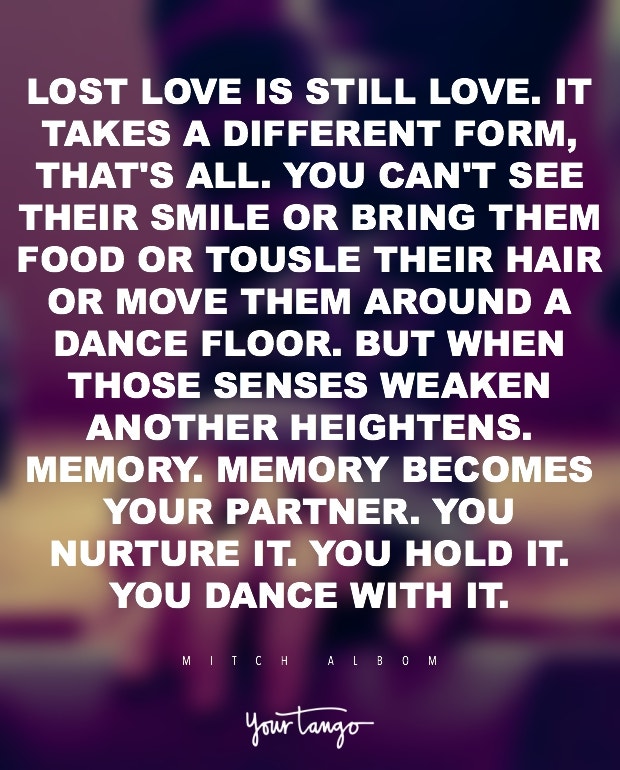 True love never ends.
16. "The very essence of romance is uncertainty." ― Oscar Wilde
Love is the great unknown.
17. "Attraction is not an option." ― Neil Strauss
When you love someone, attraction is a given.
18. "One word frees us of all the weight and pain of life: That word is love." ― Sophocles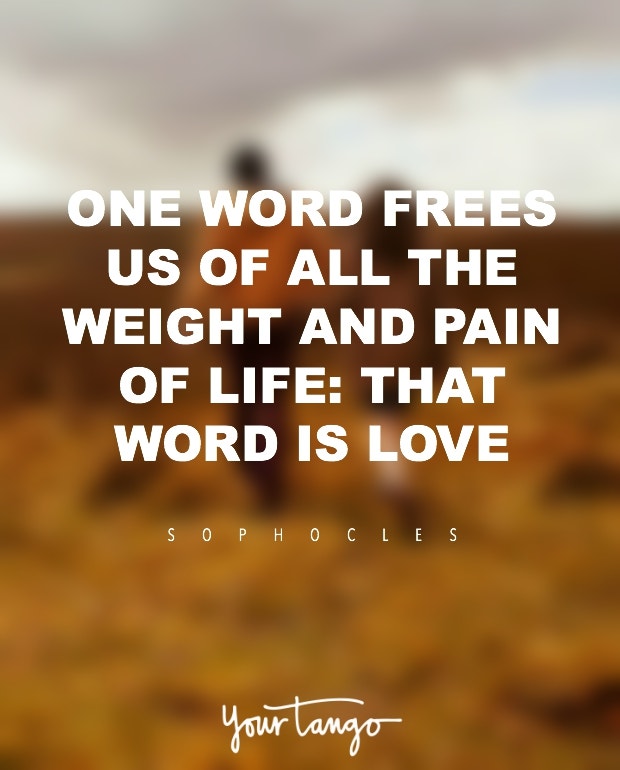 The true meaning of freedom is love.
19. "Love is a friendship set to music." — Joseph Campbell
So, let's dance.
20. "So, I love you because the entire universe conspired to help me find you." ― Paulo Coehlo
Destiny makes love happen.
21. "They say when you are missing someone that they are probably feeling the same, but I don't think it's possible for you to miss me as much as I'm missing you right now." ― Edna St. Vincent
Keywords: love, Relationships, Romance, love quotes, quotes, romantic love quotes, inspirational love quotes, quotes about love, romantic quotes, love quotes for him, inspirational quotes about love